Thailand glider club
Thailand Glider Club is a voluntary run organisation dedicated to improving Paragliding and Hangliding activities, for locals and visitors, within the Kingdom of Thailand.

The club was formed in 1988 from a few pioneering Thai pilots, Namely Suwat Hannarong (The first to fly a paraglider in Thailand) and Narint Lohathong (the second) plus a few other helpers, who have discovered all the flying sites now in Thailand. Now TGC hosts a President, Vice-presdent, secretary and various other officials. At the time of writing this, the club has over 50 flying local/visiting members.

TGC is liasing with Sport Flying Association Thailand (SFAT) who in turn report to Department of Aviation. In the future, when funds are available, TGC hopes to join the FAI

The club is currently working on a qualification scheme for student pilots that will be internationally recognised and there are plans for the first offical TGC school, clubhouse and shop.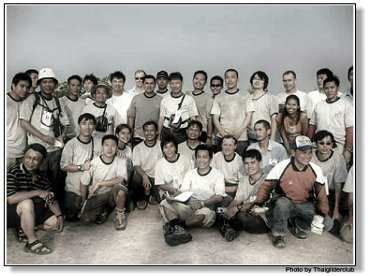 Club Officials 2005
PRESIDENT - Oubaur Kruthanooch
VICE PRESIDENT - Supat Pitikarm
VICE PRESIDENT - Niphon Terkchareon
CLERK - Chalaikorn Morhatmat
CORRESPONDENCE OFFICER - Nirun Roopradit
SAFETY COMMITTEE - Mr. Philippe Gravelin
HONORARY PRESIDENT - Narint Lohathong
Paragliding News
New Zealand paraglider plummets to his death

Pictured: Paraglider's final moments before his chute failed and he plummeted to his death - slamming into the roof of a packed SCHOOL This is the last picture of a paraglider before he plummeted to his death after his parachute 'folded in half'. Civil Aviation Authority spokesman Mike Richards said the man landed on a roof of a building at Queenstown Primary School after launching from a gondola.

One dead in paraponter crash in Queenstown

The person involved was understood to be a recreation pilot, and not a client or staff member of a local extreme sports company. Paraponters and paragliders often circle over the heavily forested Bob's Peak.

Ukiah police and fire log: Thursday, April 20, 2017

The following were compiled from reports prepared by the Ukiah Police Department. To anonymously report crime information, call 463-6205.