Thailand glider club
Thailand Glider Club is a voluntary run organisation dedicated to improving Paragliding and Hangliding activities, for locals and visitors, within the Kingdom of Thailand.

The club was formed in 1988 from a few pioneering Thai pilots, Namely Suwat Hannarong (The first to fly a paraglider in Thailand) and Narint Lohathong (the second) plus a few other helpers, who have discovered all the flying sites now in Thailand. Now TGC hosts a President, Vice-presdent, secretary and various other officials. At the time of writing this, the club has over 50 flying local/visiting members.

TGC is liasing with Sport Flying Association Thailand (SFAT) who in turn report to Department of Aviation. In the future, when funds are available, TGC hopes to join the FAI

The club is currently working on a qualification scheme for student pilots that will be internationally recognised and there are plans for the first offical TGC school, clubhouse and shop.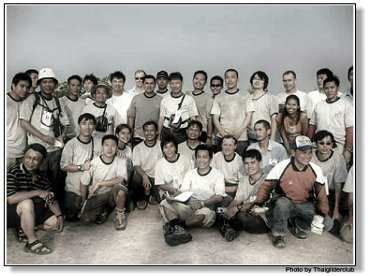 Club Officials 2005
PRESIDENT - Oubaur Kruthanooch
VICE PRESIDENT - Supat Pitikarm
VICE PRESIDENT - Niphon Terkchareon
CLERK - Chalaikorn Morhatmat
CORRESPONDENCE OFFICER - Nirun Roopradit
SAFETY COMMITTEE - Mr. Philippe Gravelin
HONORARY PRESIDENT - Narint Lohathong
Paragliding News
Breathtaking

Paragliding enthusiasts soak in the breathtaking scenery and serenity at daybreak over the waters off Narvacan, Ilocos Sur, which relaunched its outdoor adventure packages in support of the provincial government's efforts to further boost tourism and spur economioc growth.

Pilots fly where eagles dare

The Manilla XC long distance paragliding competition has already seen pilots landing in Scone with even bigger distances forecast for later in the week. Flying high: Paragliders competing in the distance event at the Manilla XC this week have already flown as far as Scone.

Ruthin paraglider died after 'head injuries', inquest hears

A Denbighshire man involved in a paragliding accident on his first full day in Nepal suffered head and leg injuries, a Ruthin inquest has heard. Michael Peter Blanchard, 67, was flying solo when he is believed to have lost control and crashed into a tree.