Thailand glider club
Thailand Glider Club is a voluntary run organisation dedicated to improving Paragliding and Hangliding activities, for locals and visitors, within the Kingdom of Thailand.

The club was formed in 1988 from a few pioneering Thai pilots, Namely Suwat Hannarong (The first to fly a paraglider in Thailand) and Narint Lohathong (the second) plus a few other helpers, who have discovered all the flying sites now in Thailand. Now TGC hosts a President, Vice-presdent, secretary and various other officials. At the time of writing this, the club has over 50 flying local/visiting members.

TGC is liasing with Sport Flying Association Thailand (SFAT) who in turn report to Department of Aviation. In the future, when funds are available, TGC hopes to join the FAI

The club is currently working on a qualification scheme for student pilots that will be internationally recognised and there are plans for the first offical TGC school, clubhouse and shop.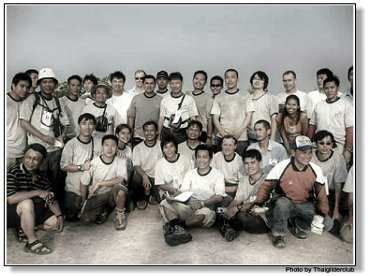 Club Officials 2005
PRESIDENT - Oubaur Kruthanooch
VICE PRESIDENT - Supat Pitikarm
VICE PRESIDENT - Niphon Terkchareon
CLERK - Chalaikorn Morhatmat
CORRESPONDENCE OFFICER - Nirun Roopradit
SAFETY COMMITTEE - Mr. Philippe Gravelin
HONORARY PRESIDENT - Narint Lohathong
Paragliding News
Up Up and Away: The best flying cars from around the world

The Wright Brothers were the first to successfully produce a flying machine in 1903, but while we now have aeroplanes carrying out hundreds of flights a day, a flying car is still an idea that hasn't been fully achieved. Or has it? We've rounded up a whole selection of flying vehicles that can be used on the road and in the air.

Hopeless, he rolled his wheelchair off a dock

"I don't agree with what he did, but I understand what he did, and it should be his choice." Left with no hope after an injury, he rolled his wheelchair off a dock in central Pa.

Injured Bald Hill paraglider pilot 'in good spirits'

He suffered a lower back injury and was airlifted to Royal North Shore Hospital, where he remained on Monday in a stable condition. Mark Mitsos, Stanwell Park Hang Gliding and Paragliding Club senior safety officer, said the man was expected to undergo surgery to fuse an estimated six vertebrae.