Thailand glider club
Thailand Glider Club is a voluntary run organisation dedicated to improving Paragliding and Hangliding activities, for locals and visitors, within the Kingdom of Thailand.

The club was formed in 1988 from a few pioneering Thai pilots, Namely Suwat Hannarong (The first to fly a paraglider in Thailand) and Narint Lohathong (the second) plus a few other helpers, who have discovered all the flying sites now in Thailand. Now TGC hosts a President, Vice-presdent, secretary and various other officials. At the time of writing this, the club has over 50 flying local/visiting members.

TGC is liasing with Sport Flying Association Thailand (SFAT) who in turn report to Department of Aviation. In the future, when funds are available, TGC hopes to join the FAI

The club is currently working on a qualification scheme for student pilots that will be internationally recognised and there are plans for the first offical TGC school, clubhouse and shop.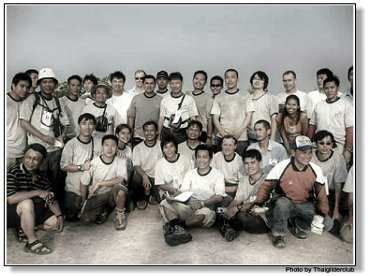 Club Officials 2005
PRESIDENT - Oubaur Kruthanooch
VICE PRESIDENT - Supat Pitikarm
VICE PRESIDENT - Niphon Terkchareon
CLERK - Chalaikorn Morhatmat
CORRESPONDENCE OFFICER - Nirun Roopradit
SAFETY COMMITTEE - Mr. Philippe Gravelin
HONORARY PRESIDENT - Narint Lohathong
Paragliding News
Labour of love and passion

Breaking away from conventional professions, there are people who are sustaining a livelihood by teaching paragliding, running a dog clinic, writing travel blogs and modifying bikes. Bringing stories of such men and women and their jobs on the screen is Discovery Channel's new series India's Best Jobs.

Kota Putera Paragliding Park Gets New Name

The Kota Putera Paragliding Park, or more familiarly known as "Mini Bali" among international paragliders, will be given a new name, Kota Putra Extreme Paragliding Park. Kota Putera assemblyman Mohd Mahdi Musa said the park that is located at an altitude of 165 metres on Bukit Bubus, will be developed into a world-renowned paragliding park, to suit its popularity as the best paragliding park in the East Coast.

Hang-glider injured after crash at Bald Hill

Onlookers watch a rescue helicopter take off from Bald Hill after tending to an injured hang-glider. Picture: Adam McLean Emergency services were called to Lady Wakehurst Drive at 1:35pm with reports a 43-year-old had gone off the cliff and was hurt.