Thailand glider club
Thailand Glider Club is a voluntary run organisation dedicated to improving Paragliding and Hangliding activities, for locals and visitors, within the Kingdom of Thailand.

The club was formed in 1988 from a few pioneering Thai pilots, Namely Suwat Hannarong (The first to fly a paraglider in Thailand) and Narint Lohathong (the second) plus a few other helpers, who have discovered all the flying sites now in Thailand. Now TGC hosts a President, Vice-presdent, secretary and various other officials. At the time of writing this, the club has over 50 flying local/visiting members.

TGC is liasing with Sport Flying Association Thailand (SFAT) who in turn report to Department of Aviation. In the future, when funds are available, TGC hopes to join the FAI

The club is currently working on a qualification scheme for student pilots that will be internationally recognised and there are plans for the first offical TGC school, clubhouse and shop.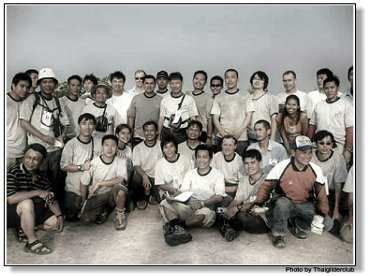 Club Officials 2005
PRESIDENT - Oubaur Kruthanooch
VICE PRESIDENT - Supat Pitikarm
VICE PRESIDENT - Niphon Terkchareon
CLERK - Chalaikorn Morhatmat
CORRESPONDENCE OFFICER - Nirun Roopradit
SAFETY COMMITTEE - Mr. Philippe Gravelin
HONORARY PRESIDENT - Narint Lohathong
Paragliding News
Welcome to Bir, paragliding capital of India

Hidden in the foothills of the Indian Himalayas, the largely agricultural village of Bir is better known to visitors by its nickname -- the "paragliding capital of India ." Located in the state of Himachal Pradesh in northern India, this small village has witnessed a boom in popularity among international paragliders after it hosted the Paragliding World Cup in 2015.

11:20 Killer of British paraglider handed 16 years in prison in Mongolia

Citizen of Mongolia Gantulga Batsukh was found guilty of murder British paraglider Steve Nash and given 16 years in jail on Friday, the Nash family's lawyers told BBC. Nash, 53, was murdered in a robbery while traveling in Mongolia in September 2016.

Justice for family of Brit paraglider murdered in Mongolia

'Did you thank the doctor for bringing you into this world?' LaVar Ball escalates Trump feud in car-crash interview where he again refused to thank President for helping free his son from China 'I finished her off, I strangled her. I got up and wiped off the blood.