Thailand glider club
Thailand Glider Club is a voluntary run organisation dedicated to improving Paragliding and Hangliding activities, for locals and visitors, within the Kingdom of Thailand.

The club was formed in 1988 from a few pioneering Thai pilots, Namely Suwat Hannarong (The first to fly a paraglider in Thailand) and Narint Lohathong (the second) plus a few other helpers, who have discovered all the flying sites now in Thailand. Now TGC hosts a President, Vice-presdent, secretary and various other officials. At the time of writing this, the club has over 50 flying local/visiting members.

TGC is liasing with Sport Flying Association Thailand (SFAT) who in turn report to Department of Aviation. In the future, when funds are available, TGC hopes to join the FAI

The club is currently working on a qualification scheme for student pilots that will be internationally recognised and there are plans for the first offical TGC school, clubhouse and shop.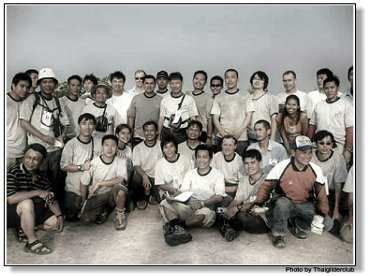 Club Officials 2005
PRESIDENT - Oubaur Kruthanooch
VICE PRESIDENT - Supat Pitikarm
VICE PRESIDENT - Niphon Terkchareon
CLERK - Chalaikorn Morhatmat
CORRESPONDENCE OFFICER - Nirun Roopradit
SAFETY COMMITTEE - Mr. Philippe Gravelin
HONORARY PRESIDENT - Narint Lohathong
Paragliding News
Kiteboard featured on St. Mary's billboard

You might remember that terrifying video from last July in Juno Beach. It showed Damien LeRoy dropping more than 150 feet out of the air.

Armenia develops sports tourism: Number of paragliding flight lovers increases

Armenpress News Agency , Armenia May 23, 2017 Tuesday Armenia develops sports tourism: Number of paragliding flight lovers increases YEREVAN, MAY 23, ARMENPRESS. Armenia develops sports tourism.

Paraglider fights for his life after crash-landing

'Terrorists do not worship God - they worship death': Trump implores Arab leaders to 'drive' extremists from their 'places of worship' in Saudi speech as Melania, Ivanka and Jared watch Australian woman, 26, on a romantic Hawaii holiday with her American boyfriend is strip-searched and JAILED on her birthday after US immigration officers went through her diary and found 'evidence' she was planning to live there 'It's time to move on': Former Olympic swimmer with 23 gold medals, Michael Phelps, has no plans to return to competition Middle school teacher, 36, convicted of sending nude selfies to EIGHT students aged 13-18, plying them with beer and having sex with them - but she claims she was 'blackmailed' into sending the lewd pictures Horrifying moment a sea lion GRABS a young girl from a pier with its mouth and drags her into the water Teacher, 51, who 'whispered in middle school ... (more)