Thailand glider club
Thailand Glider Club is a voluntary run organisation dedicated to improving Paragliding and Hangliding activities, for locals and visitors, within the Kingdom of Thailand.

The club was formed in 1988 from a few pioneering Thai pilots, Namely Suwat Hannarong (The first to fly a paraglider in Thailand) and Narint Lohathong (the second) plus a few other helpers, who have discovered all the flying sites now in Thailand. Now TGC hosts a President, Vice-presdent, secretary and various other officials. At the time of writing this, the club has over 50 flying local/visiting members.

TGC is liasing with Sport Flying Association Thailand (SFAT) who in turn report to Department of Aviation. In the future, when funds are available, TGC hopes to join the FAI

The club is currently working on a qualification scheme for student pilots that will be internationally recognised and there are plans for the first offical TGC school, clubhouse and shop.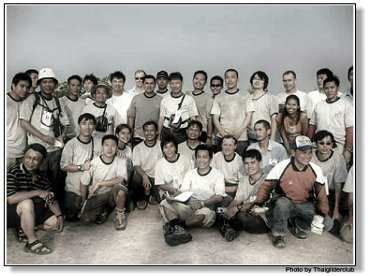 Club Officials 2005
PRESIDENT - Oubaur Kruthanooch
VICE PRESIDENT - Supat Pitikarm
VICE PRESIDENT - Niphon Terkchareon
CLERK - Chalaikorn Morhatmat
CORRESPONDENCE OFFICER - Nirun Roopradit
SAFETY COMMITTEE - Mr. Philippe Gravelin
HONORARY PRESIDENT - Narint Lohathong
Paragliding News
Paraglider bodyslams cow trying to take-off in Switzerland

'This Land Is Your Land': Candles of peace replace torches of hate as thousands of protesters sing together during moving vigil in Charlottesville - four days after racist violence engulfed the town Bannon bites back: Embattled chief strategist denounces the alt-right as a 'collection of clowns' and believes Democrats talking about racism instead of the economy will help Trump crush them in 2020 Phoenix's mayor calls on Trump to delay rally in his city 'as our nation is still healing from Charlottesville' and is concerned the president wants to 'enflame emotions and further divide' Would J-Vanka have prevented Trump from going 'rogue' on Charlottesville? Jared and Ivanka head on ANOTHER vacation - this time to Vermont - during the president's meltdown after 'urging him to take a moderate stance' What do YOUR pimples say about you? From forehead zits pointing to an 'unhappy gut' to chin ... (more)

Competitive Paragliding

Once a year, the top paragliding pilots in the US gather for a grueling, gravity-defying, seven-day marathon called the Rat Race.

Touching the sky: Tater Hill Open offers gliders camaraderie, competition

Paraglider Nathan Bean prepares to touch down in the designated landing zone along Silverstone Road in Zionville on Wednesday, Aug. 2. Pilots pack up their parachutes and equipment after completing their glides at Silverstone Road in Zionville. In the background, two more pilots prepare to land on Wednesday, Aug. 2. ZIONVILLE - Near the North Carolina and Tennessee border, scores of gliders have been taking to the skies this past week as part of the 12th annual Tater Hill Open.