Thailand glider club
Thailand Glider Club is a voluntary run organisation dedicated to improving Paragliding and Hangliding activities, for locals and visitors, within the Kingdom of Thailand.

The club was formed in 1988 from a few pioneering Thai pilots, Namely Suwat Hannarong (The first to fly a paraglider in Thailand) and Narint Lohathong (the second) plus a few other helpers, who have discovered all the flying sites now in Thailand. Now TGC hosts a President, Vice-presdent, secretary and various other officials. At the time of writing this, the club has over 50 flying local/visiting members.

TGC is liasing with Sport Flying Association Thailand (SFAT) who in turn report to Department of Aviation. In the future, when funds are available, TGC hopes to join the FAI

The club is currently working on a qualification scheme for student pilots that will be internationally recognised and there are plans for the first offical TGC school, clubhouse and shop.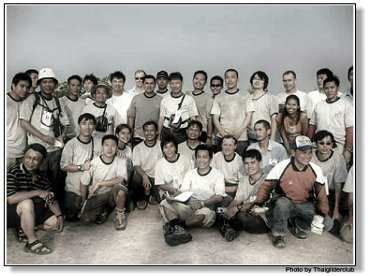 Club Officials 2005
PRESIDENT - Oubaur Kruthanooch
VICE PRESIDENT - Supat Pitikarm
VICE PRESIDENT - Niphon Terkchareon
CLERK - Chalaikorn Morhatmat
CORRESPONDENCE OFFICER - Nirun Roopradit
SAFETY COMMITTEE - Mr. Philippe Gravelin
HONORARY PRESIDENT - Narint Lohathong
Paragliding News
Paragliding: Hungarian Thomas Antalffy's 'life changing' near-death experience

The last thing Thomas Antalffy remembers is slowly circling towards the ground in the late afternoon at the end of a terrific three-hour paragliding flight in central Brazil. "I remember one shoulder hurting, but other than that I didn't feel any pain.

Welsh daredevil took selfies of own paragliding accident

Is this the most extreme selfie ever? Paraglider, 35, took pictures of himself seconds after shattering his spine when he smashed into a mountainside Lying in agony on a jagged mountain with his spine shattered, this brave thrill-seeker took a selfie during what he thought could be his final moments alive. Niall McCann, 35, took pictures of his own horror paragliding crash after he smashed into the side of a 2,900ft peak in the Brecon Beacons, Wales.

'Sky's the limit' for tetraplegic paraglider

A lot of us believe that attitude is everything, and if you're searching for proof then look at Jezza Williams. But now the tetraplegic - who has sky dived, white-water rafted and driven a rally car - is going for his paragliding license.