Thailand glider club
Thailand Glider Club is a voluntary run organisation dedicated to improving Paragliding and Hangliding activities, for locals and visitors, within the Kingdom of Thailand.

The club was formed in 1988 from a few pioneering Thai pilots, Namely Suwat Hannarong (The first to fly a paraglider in Thailand) and Narint Lohathong (the second) plus a few other helpers, who have discovered all the flying sites now in Thailand. Now TGC hosts a President, Vice-presdent, secretary and various other officials. At the time of writing this, the club has over 50 flying local/visiting members.

TGC is liasing with Sport Flying Association Thailand (SFAT) who in turn report to Department of Aviation. In the future, when funds are available, TGC hopes to join the FAI

The club is currently working on a qualification scheme for student pilots that will be internationally recognised and there are plans for the first offical TGC school, clubhouse and shop.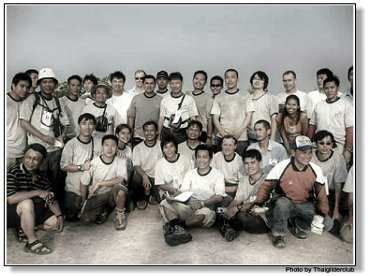 Club Officials 2005
PRESIDENT - Oubaur Kruthanooch
VICE PRESIDENT - Supat Pitikarm
VICE PRESIDENT - Niphon Terkchareon
CLERK - Chalaikorn Morhatmat
CORRESPONDENCE OFFICER - Nirun Roopradit
SAFETY COMMITTEE - Mr. Philippe Gravelin
HONORARY PRESIDENT - Narint Lohathong
Paragliding News
Canberra's Kari Ellis wins silver at 2017 FAI World Paragliding Championships

Canberra's Kari Ellis has flown above her female competitors to finish second at the FAI World Paragliding Championship last week in Monte Avena, Italy. Ellis spent $10,000 of her own money to compete in the event for the first time after receiving little financial support from the Hang Gliding Federation of Australia.

Here're the must-go destinations to satisfy your passion for jumping sports

Though Van Halen sang it metaphorically, today, on the World Jump Day, one can take the liberty to imbibe these words literally. Hence, the travel-tech startup Wandertrails have come up with top nine destinations in India that serves Jumping sports: # Bungee jumping- 1. Rishikesh: Rishikesh has the highest bungee jumping spot in India, with a height of 83m and is the only destination with a fixed platform to jump from, which is a cantilever structure that extends out over a cliff to give the amazing height.

Indonesia holds international paragliding championship

Indonesia's eastern region of West Nusa Tenggara province is hosting an international paragliding championship that will run until July 24 with at least 40 athletes from 14 countries and regions. Besides contending the accurate landing category, international athletes vying in the 2017 Mantar Paragliding XC Open would also compete in cross country, a brand new category introduced in the annual event this year, the organizer said.